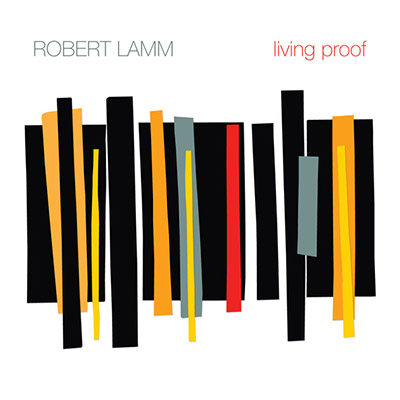 Track Listing
1. OUT OF THE BLUE
2. ARISE (STORM)
3. 4 BELLS
4. ON THE EQUINOX
5. THOSE CRAZY THINGS (duet with ZOSIA)
6. KEEP THE FAITH
7. LIVING PROOF
8. I CONFESS
9. LIQUID SKY (feat. ZOSIA) (bonus track)
10. ON THE EQUINOX (JVE remix) (bonus track)
L
iving Proof is filled with interesting lyrics and cutting edge music and is proof that Robert Lamm remains at his best, and raises the musical bar even higher since his previous release, "Subtlety and Passion". In addition to the talents of Robert Lamm, the CD also features the excellence of long time collaborator Hank Linderman (Guitar/Vocals), Trent Gardner (Production/Trombone), and showcases the vocal talents and writing skills of rising star ZoSia Karbowiak as well as the talents of Jason Scheff and Drew Hester. But, what does this all amount to? Living Proof that Lamm's creative juices still flow.
M.Parrotto
Liner Notes
by Robert Lamm
OUT OF THE BLUE
Trent Gardner / Robert Lamm © 2011
The music and melody were developed over the internet with Trent Gardner, whose very fertile creativity knows no bounds. All he had to start with was the lyric I sent and a suggestion and playlist of electronica tracks I have enjoyed. His funky modern alt-rock track fit perfectly.
I was thinking a lot during this period about Terry Kath and Carl Wilson. Carl would tilt his head when listening to playbacks in studio. Terry had strong, beautiful hands, and was the ultimate creative force. I tend to be a man of few words, depending on other forms of communication. I suspect that when one is quiet, it allows non verbal information to 'get through'. Out of the Blue.
ARISE (STORM)
Zosia Karbwiak / Robert Lamm © 2011
PRIOR TO RELOCATING TO NEW YORK CITY IN OCTOBER 1991, I HAD STRUGGLED TO FULLY ENGAGE MY SONG WRITING, BUT ONCE I SETTLED IN, IT STARTED TO FLOW. THE RESULTING GROUP OF SONGS APPEARED ON "CHICAGO 22 (STONE OF SISYPHUS)", "IN MY HEAD (TOO MANY VOICES)" AND THE ARRANGEMENTS I DID FOR CHICAGO'S "NIGHT AND DAY" ALBUM AND "CHICAGO 25", "ARISE (STORM)" REMAINED UNFINISHED UNTIL THIS YEAR. IT WAS THE SECOND SONG IDEA I SENT TO ZOSIA. I RE-STRUCTURED AND "RE-GROOVED" IT AND SENT A DEMO TRACK TO ZOSIA, WHO WROTE THE MELODY, SANG THE VOCAL PARTS. SHE TOLD HER STORY IN THE FIRST DRAFT OF THE LYRIC (TYPICALLY OF HER, VIRTUALLY OVERNIGHT!) WE TWEAKED THE LYRICS, AND WITH MR. LINDERMAN, CUT A NEW TRACK.
4 BELLS
ROBERT LAMM © 2011
I WAS I THE MIDDLE OF A LIFE-CHANGING 6 MONTH HIATUS, WHEN I FINISHED THIS SONG, STARTED IN 1981. IT WAS THE FALL OF 2010, I WAS RELAXED, STIMULATED AND JOYOUS.
PRETTY REGULARLY, IN INTERVIEWS, I'M ASKED SOMETHING LIKE " ANY IDEA HOW MUCH LONGER CHICAGO WILL CONTINUE TO BE ACTIVE?" OR " HAVE YOU EVER THOUGHT OF RETIRING OR DOING SOMETHING ELSE?" SO I WAS LOOKING AT ALL THE GOOD FORTUNE I'VE HAD, ALL I HAD ACCOMPLISHED, AND ALL I STILL WANTED TO DO IN MUSIC AND IN LIFE, BEYOND THE BAND.
ON THE EQUINOX
ROBERT LAMM © 2011
THIS A NUTTY SONG THAT HAS LYRIC IDEAS THAT GO BACK TO EXPERIENCES I HAD AS A TEENAGER IN BROOKLYN, AND LATER IN NORTHERN CALIFORNIA IN MY 20'S. I AM LIBRA, A MAN IN PERPETUAL SEARCH OF BALANCE IN ALL THINGS AROUND ME.
THE VOCAL APPROACH WAS TO SING GRUFFLY, BUT AT MY LOWEST VOLUME. WHEN I RECORDED MY SKETCH, THERE WAS A NEWBORN BABY LIVING ONE FLOOR BELOW, MY STUDIO WINDOW SHARING THE ATRIUM WITH HIS. IT GAVE ME A NICE WORLD-WEARY FEELING.
AN EARLY AND MUCH DIFFERENT VERSION OF THIS SONG WAS SUBMITTED (AND REJECTED) FOR CHICAGO 16.
THOSE CRAZY THINGS
Z. KARBOWIAK / R. LAMM © 2011
THE ORIGINAL VERSION OF "THOSE CRAZY THINGS" WAS A PUNY R&B BALLAD ("I NEED A LOVER") THAT I WAS STUCK WITH. I HAD RECORDED IT IN 1980 WITH DANNY KORTCHMAR, MIKE FINNIGAN, MARTY GREBB, DOUG NELSON, AND RUSS KUNKLE. EVEN THEY COULDN'T MAKE IT A GOOD SONG. I PUT IT AWAY WITH OTHER DEAD IDEAS, IN A FILE FOLDER WITH A FAT RUBBERBAND IN THE VERY REAR OF THE CABINET, IN A DARK AND LONELY STORAGE FACILITY.
WHEN I ASSEMBLED A WRITING SPACE IN CALIFORNIA IN 2002, I WENT THRU EVERY DRAWER, BOX, TAPE, CASSETTE, CD, AND SCRAP OF PAPER, AND TRASHED ANYTHING I WASN'T GOING FORWARD WITH. JUST TO CLEAR THE DECKS SO I COULD MOVE ON.
I PROCEEDED TO WRITE THE ALL SONGS FOR "SUBTLETY & PASSION". I WAS USING AN ENSONIQ TS -12 WORKSTATION, AND IN THE PROCESS EDITED AND SAVED A DIFFERENT VERSION OF OF THE OLD BALLAD IDEA. I CALLED IT 'SIMPLE IDEA".
JUMP TO 2009, WHEN I REDISCOVERED "SIMPLE" AND WORKED INTO THE OLD SEQUENCE USING GARAGEBAND. I WAS SENDING SONG IDEAS TO WRITERS (PE-ER CETERA, MARCOS VALLE ) WHOSE WORK I ENJOYED, AND REMEMBERED ZOSIA, WHO WAS BUSY WITH HER LIFE. SHE SENT BACK A GOOD, QUICK SKETCH, WHICH I LIKED IMMEDIATELY, BUT HAD NO TIME TO WORK ON IT UNTIL 2010. IRONICALLY, HER LYRIC IDEA REMINDED ME OF HOW IT WAS WHEN JOY AND I FOUND EACH OTHER.
THEN FINISHING THE SONG WAS EASY.
KEEP THE FAITH
ROBERT LAMM / HANK LINDERMAN © 2011
HANK STARTED THIS SONG, REALLY HAD THE SHAPE OF THE VERSE AND CHORUS, MUSIC WISE. THE TOUGH GROOVE WAS PERFECT. AND HIS FIRST VERSE LYRIC SET THE TONE OF FOREBODING … THE INEVITABLE POINT AT WHICH WE MUST BE BRAVE, FINDING STRENGTH IN SPIRITUAL INSPIRATION. THE SUBSEQUENT VERSES AND BRIDGE CAME FROM MY PERPETUAL DEMONS. I LOVE THIS SONG. I NEED A T-SHIRT WITH "KEEP THE FAITH".
LIVING PROOF
ROBERT LAMM / TRENT GARDNER © 2009
1 OF 2 SONGS TRENT GARDNER AND I COLLABORATED ON. WE MET ONLINE AND I FOUND TRENT'S JOY OF MUSIC AND WEALTH OF CREATIVE IDEAS INSPIRING. WORKING THRU EMAILS AND MP3 FILES, WE TWEAKED MY BASIC HARMONIC GRID AS TRENT PLAYED AND PROGRAMMED MOST INSTRUMENTS. EARLY 2009 WE WERE READY TO MEET AND RECORD. HIS COOL MELODY AND BEAUTIFUL LYRICS WERE AWESOME TO SING.
I CONFESS
ROBERT LAMM / HANK LINDERMAN © 2005
I LOVE THE SONG IDEAS HANK LINDERMAN CREATES, USING KEYBOARD, RATHER THAN GUITAR. (HE IS A BRILLIANT GUITARIST AND SINGER). HE ALWAYS INVENTS KEYBOARD RIFFS I WOULD NEVER HAVE THOUGHT OF…"I CONFESS" LYRICALLY, WAS QUITE CATHARTIC FOR ME … TO BE OPEN ABOUT WHAT'S IN MY HEART MOST EVERY MOMENT. THE VIGNETTES ARE TAKEN FROM MANY DIFFERENT POINTS IN MY LIFE. SOME LINES MEAN EXACTLY WHAT THEY SAY, SOME LINES, WELL, … ONLY I CAN KNOW WHAT THEY MEAN … THEY ARE THERE FOR THE IMAGES THEY MAY PROJECT OR OCCASIONALLY SIMPLY FOR THE SOUND AND RHYTHM OF THE WORDS.
I SUBMITTED THIS SONG FOR CHICAGO XXX, AND I BELIEVED IN IT FOR THE BAND. PRODUCER JAY DEMARCUS DIDN'T FEEL IT.
WHEN I PLAYED AN EARLY MIX OF THE ALBUM FOR MY FRIENDS WHILE ON THE BUS THIS PAST SUMMER, TOURING EUROPE, THIS SONG GENERATED GREAT POSITIVE COMMENTS.
LIQUID SKY
R. LAMM / Z KARBOWIAK © 2011
THIS SONG IS THE 3RD COLLABORATION WITH Z. I ORIGINALLY HAD THE MUSIC, TRACK, LOOPS, BUT NO MELODY OR LYRIC.
Z GOT THE MELODY, THE HARMONIES AND THE LYRIC STORY DONE, OVERNIGHT! VIA INTERNET.
ON THE EQUINOX (JVE REMIX)
ROBERT LAMM © 2011
FOR MY NEXT PROJECT, WHICH IS TENTATIVELY TITLED "JOHN VAN EPS REMIXES ROBERT LAMM", I WANTED TO INCLUDE MUSIC FROM MY "LIVING PROOF" ALBUM. I SENT HIM A FEW NEW TRACKS FROM THIS ALBUM AND HE RESPONDED WITH A WACKY APPROACH TO "ONE DAY ON THE EQUINOX", QUITE IN KEEPING WITH THE OTHER REMIXES HE HAS DONE.
Despite his key role in Chicago's early success, Robert Lamm was, in some ways, a victim of their 'faceless' status and has never received the recognition he deserves as a songwriter and performer in his own right. Indeed, despite his first solo album (Skinny Boy) coming out during Chicago's mid-70s commercial peak it sank without a trace and he didn't resume his solo career until the mid-90s. Sadly, a songwriting renaissance coincided with a severe decline in recording activity for the band he helped launch to superstardom with songs such as Beginnings, 25 Or 6 to 4 and Saturday in the Park, hence the marked increase in solo activity in recent decades. This late-career burst of creativity is clearly far from over, judging by this latest effort.
With the exception of 2003's well-received Subtlety and Passion album, which featured Chicagoesque horn arrangements, and guest spots from most of the then-current line-up of the band, Lamm has generally used his solo work to explore different styles and textures, and on Living Proof, while there are a handful of songs that would fell at home on a classic Chicago album (opener Out of the Blue being the most obvious example) for the most part the territory explored here is closer to the urban sophistication of In My Head – the album that, until now, was my favourite of his solo output.
As Lamm's liner notes (available to download from www.robertlammsolo.com, along with the song lyrics/credits, etc) make clear the gestation period of some of these songs was decades rather than days, and the fact that he'd previously abandoned some of the ideas that have finally come to fruition on this album is a lesson for all artists to never throw anything away. Several tracks had been submitted for inclusion on various Chicago albums over the years, some in drastically different versions, but at least one (I Confess) was submitted (and rejected) for Chicago XXX which is astonishing, as it is quite possibly the best song any member of Chicago has penned in decades. If Chicago ever return to the studio to record music that isn't Christmas-themed (chance would be a fine thing) this simply has to be a contender, despite its inclusion here.
While it was once unusual to see a Lamm-penned tune with a co-writer credit, the opposite is now true and on this occasion there are multiple co-writes from long-term collaborator Hank Linderman, as well as more recent acquaintances Trent Gardner and Zosia, all of whom bring different things to the table and help to provide a tremendous diversity to the material. Tantalisingly he also mentions Peter Cetera as one of the writers he sent song ideas to for this album, but doesn't give any indication of what response, if any, was received.
Zosia actually turns out to be something of a secret weapon on this album, appearing as a vocalist on all three of her contributions and expanding her presence throughout the album from backing vocalist (on Arise) to duet singer (on the tremendously catchy Those Crazy Things) to sole vocalist on first bonus track Liquid Sky. She is very much a worthy successor to Lamm's previous duet partner, the late Phoebe Snow.
To my mind Lamm was always Chicago's most consistent – and overlooked – vocalist, and his voice has only changed slightly over the past four decades; the warmth that was always its defining characteristic is present as ever – even the 'gruff' voice he employs for much of On the Equinox doesn't hide this – though it does demonstrate a rarely-seen versatility (though this has been evident on record since at least Chicago III and I Don't Want Your Money).
While I've casually referenced my absolute favourites on the album above, there isn't a weak moment to be found – without exception all of the songs here will echo in your head for days after listening.
The album ends with a second bonus track – namely a remix of On the Equinox – but this is not a slightly-altered reprise of the 'official' version – it really does feel like a completely different song. As a preview of the upcoming 'Songs of Robert Lamm' remixes album on which it will be featured alongside other drastically re-worked classics from the Lamm songbook, old and new, it bodes extremely well.
With a total running time of around 40 minutes (including the two 'bonus' tracks) this is an album that definitely leaves you wanting more (and as a result I often replay both Those Crazy Things and I Confess once I've finished the album as a whole), which is how it should be. Overall this is definitive (one might say living…but one won't!) proof (if any were needed) that, whatever is happening with his 'day job', Lamm's creativity is undiminished – while the work included here would obviously reach a much wider audience if released under the Chicago banner, I'll happily take the undiluted approach doing things on his own allows him for as long as he cares to write and record. Fans of early Chicago in particular or (cliché warning) great music in general, need to check this out. (9/10)